Magical! Tripadvisor review: Bumhi Safaris Our amazing guide,Tende, planned and delivered the most fabulous road trip from Victoria Falls (Zimbabwe) to the Skeleton Coast (Namibia), and into our lives brought adventure, amazing landscapes, wonderful wildlife, beautiful birds, and his deep knowledge and love of Africa. Roads formed of desert sand presented a unique challenge but Tende drove with consummate skill whilst simultaneously tracking or spotting elusive creatures and sights along the way. From a refreshing afternoon G&T on the Chobe River, cooked breakfast on the campfire when we woke from our nights in the bush, a lunch of freshly caught fish BBQ'd in the Okavango Delta to a surprise romantic dinner in the sunset, plus introduction to the native bush people, Tende brought tireless hard work, imagination and sheer fun to all we did together. We were a group of five people aged 7 to 70 - every one of us had a wonderful time. Tende handled everything from the adverse to the sublime with strength, tact and equanimity, taking us very close to the animals but keeping us safe and informed. We cannot recommend him (and Bumhi Safaris) highly enough.
Awesome bespoke outdoor holiday with fantastic hosts! - Bumhi Safaris! Tripadvisor review: Bumhi Safaris Absolutely Epic! Tende was class. Fun, insightful, encouraging and all achieved with an awesome sense of humour. Ivana was a class act too! Between them, no stone was left unturned. They are a very safe and knowledgeable pair of hands who will do anything to make sure you have the best time. The camping was excellent! Stunning campsites with authentic open cooking. The trekking and trails were well tailored and inundated with beautiful views. The safaris at Hlane we're brilliant. Very knowledgeable guides, expertly managing curious Rhinos and Wild Elephants! There was plenty to see too! Truly, there was never a dull moment and you always feel well taken care of. Would I go back...? Not only do I want to, I intend to! Tende and Ivana, thank you!
One and only personalized safari! Tripadvisor review: Bumhi Safaris Phenomenal experience in Africa thanks to Bumhi Safaris! We've been already on a few safaris, but this one definitely tops it all! Together with my wife, we badly needed a break and complete disconnection from the busy and stressful life, and following the advice of Bumhi we opted for the Kalahari. So proud of that decision, hehe! Utter disconnection (that was so hard to let go of), silence (aside from animal noises), stunning colors and scenery, sitting by the fire and staring at the stars, fully in-tune with the nature. One of the reasons why this operator stands out so much is their professional yet such a personalized approach. Tende & Iv were so attentive, passionate and knowledgeable, and patient when needed. We can't thank you and recommend you enough !!!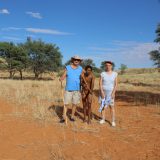 The operator(Tende) was awesome!!!! Very personable, had a blast!!! there was never a dull moment ..Yet you could tell he was very knowledgeable and passionate about everything safari and outdoors. Entirely satisfied with whole safari well organized and efficient. He made our safari a memory we will never forget.
Simply the best safari ever! Tripadvisor review: Bumhi Safaris My boyfriend and I have had the best safari ever! 8 days in the Kalahari desert camping in Khutse and Kgalagadi national parks in Botswana. So authentic, so adventurous, so out of the ordinary. Just us and the animals, stunning landscapes, amazing colors and the best company. We learned so much about the wildlife, about life in the desert, about the San tribe people. And we've had so many good laughs. Omg. Btw did I mention the food? In the middle of the bush but Bumhi safaris cook gourmet dishes on the fire served with matching wines. Cold gin tonics and snacks by the waterholes at sunsets. What can I say? Just go! This will be miles above your expectations. So just go!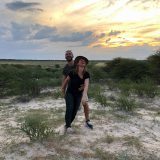 WOW!! 5 star - The most amazing experience !! Tripadvisor review: Bumhi Safaris A massive thank you to Tende Guni, owner of Bumhi Safaris, for taking us on the most amazing trip. My wife and I spent over two week with Bumhi Safaris travelling through Botswana and into Zimbabwe to Victoria Falls. The camping experience put us right into the heart of most amazing remote places, where we saw so much wild life. From Maun into Meremi onto Chobe taking in Suvute and then onto Kasane and finally Victoria Falls. An incredible way to see beautiful animals in their natural world. From being up close to wild dogs hunting wildebeest to leopard and lionesses with their cubs. Rhino and baby Rhino, all the elephants and giraffe, water buffalo, Hippos and alligators, all the birds, too many animals to name them all. Travelling with two amazing, warm, fun, friendly and expert guides. Tende who really knew where to find the best animal experiences and Christian, the best camp cook bar none. A lifetime experience, thank you guys, we will be back, Mozambique next. All our best wishes P&D
Paul Stanely & Debbie Newton Chapman
Great adventure, wildlife and wilderness tailor-made! Tripadvisor review: Bumhi Safaris I was looking for a safari that was not the usual "good package for everyone", Bumhi Safari showed excellent communication skills, flexibility, experience, competence, attention to details, friendliness and generosity, an excellent treatment both in accommodation, food and service and above all safety and security.I love them! we are ready for a future adventure...
Emanuela & George Martelli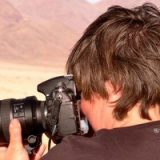 Once in a lifetime experience with once in a lifetime guides Tripadvisor review: Photography Safari in Kalahari Desert Visiting the Kalahari will be one of the best decisions you've made. It is a low key hotspot, with incredible wildlife sightings but with a fraction of the human sightings that you would have to otherwise deal with at more popular parks like Kruger. During our week there, we saw a honey badger, cheetahs, giraffes, oryx, and over 20 lions. An essential part of your safari experience, aside from the animals, will be the guides that can make or break your experience. You will not find a cuter couple or a better pair of guides than Tende or Ivana. They work incredibly well together and went to the utmost lengths to make sure that all of our needs and comforts were met. My mom and myself are vegetarian and Ivana and Tende made delicious vegetarian meals everyday that were of different varieties and all very delicious! Whether you're craving Italian, Mexican, Asian or traditional African Ivana and Tende have it covered! They even made a different dessert each day and provided more than ample amount of wine and beer to provide a perfect ending to the night. Overall, by the end of the trip Ivana and Tende felt like family and I cannot wait to come back to Africa to experience another adventure with them!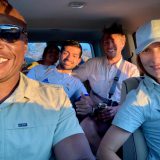 Excellent Kgalagadi safari experience! Tripadvisor review: Photography Safari in Kalahari Desert In November, my two friends and I visited Kgalagadi Transfrontier Park with Bumhi Safaris for 7D/6N. It was an EXCELLENT experience and I have nothing but positive remarks about Kgalagadi and Bumhi Safaris. Specifically, the wildlife sightings were plentiful. We saw lions every morning and evening, many kills including cheetah kill and unsuccessful lion hunt at the waterhole at night, several rare sightings such as honey badger, and many special and unique sightings. We stayed at a combination of Matta Matta, Nossob, and Twee Rivieren. We camped at all locations. Bumhi Safaris was excellent. Very professional, courteous, thoughtful, they always went the extra mile and never cut corners. I do not have any complaints. The food they cooked was restaurant quality. Creme brulee desert, etc. They accommodated all of our requests during the trip and beforehand. I thought the price paid for the safari experience was a good value. When I visit Kgalagadi in the future, I will book with Bumhi Safaris again. Their vehicle was comfortable, reliable, Tende spotted everything we could hope to see including some very majestic lion sightings in the distance allowing us to follow him as he approached the road at a later point in time. Their team of two is very professional, honest, and cares about the environment/animals.